Nowadays most of the camera user manuals have hundreds of pages, how long does it take to read all pages? Two days? A week? Would it be possible for a person to learn the fundamentals of photography in a day? Is it a fantasy? No, it is not, and it can ben done!

It started during the Chinese National Day holidays in 2014, I got together with my childhood friends in Nanjing. When the subjects of cameras and photographs came up they complained that they can afford to buy more sophisticated and more expensive cameras, photography is too differcult to learn. So much so they were even thinking to hire a photographer to travel with them to take good photos for them.

I smiled and told them that it is not that diffircult, it takes only one day to understand the fundamentals of photography. They were shocked and bet with me for a dinner.

Two days later, I gave them a lesson in my friend's office. In only four hours I explained everything with pictures and sketches on the whiteboard. When the class ended, everyone was very excited. After the class we went to Nanjing Normal University to practice. They were all amazed by what they had achived. That was the begining of my "4-Hour Crash Course on Fundamentals of Photography."

What can be taught in four hours then? It is about the length of two movies. I did not teach them anything about camera operations, and instead I want them to see the big pictures, like having a bird's-eye views on top of a mountain. The reason people feel theoretical stuff is hard to understand is because they never try to understand the basics, the fundamentals of photography. They learned a bits and pieces here and there, and they are still confused in the end. What I did, is to explain it from the angle of optical imaging, combined with comprehensive explanation of the relationships between theories, variables, terminologies and equipments. After that, it is just an optical or physical experiment. In the later part of the course, I would be leading a group discussion on how to achieve the best settings under different lighting conditions and subjects.

That's why I said over and over again when taking part of my photographic lessons it is not necessary to bring a camera, but you must bring your brain. Everything is simple when you know the fundamentals and the way how the cameras are working. Focusing on the operations of a particular camera won't get you to far. My mission is to enable you to use any camera after attending my course. For a specific function of a particular camera, you can always find it by reading its manual. The most important thing is that you know what you should do.

Initally, "4-Hour Crash Course" was purely a four-hour lesson on the fundamentals of photography. After 20 lessons in Asia, America and Europe, I have revised my teaching materials. Now it is a 7-hour course, but I still kept name "4-Hour Crash Course". The new teaching plan consists of photos, videos and jokes, to make it easier to understand.

I must admit, this is an unusual photographic course. Nonetheless I have taught 80 sessions in Asia, America and Europe with 982 students. They are the living proofs that my "4-Hour Crash Course" is the right medicine to cure the symptoms of camera manual-phobic disease.

But I have to remind you, this is just an entry level photographic theory course. One cannot write won't be a Calligrapher, and I will be only teaching you how to write.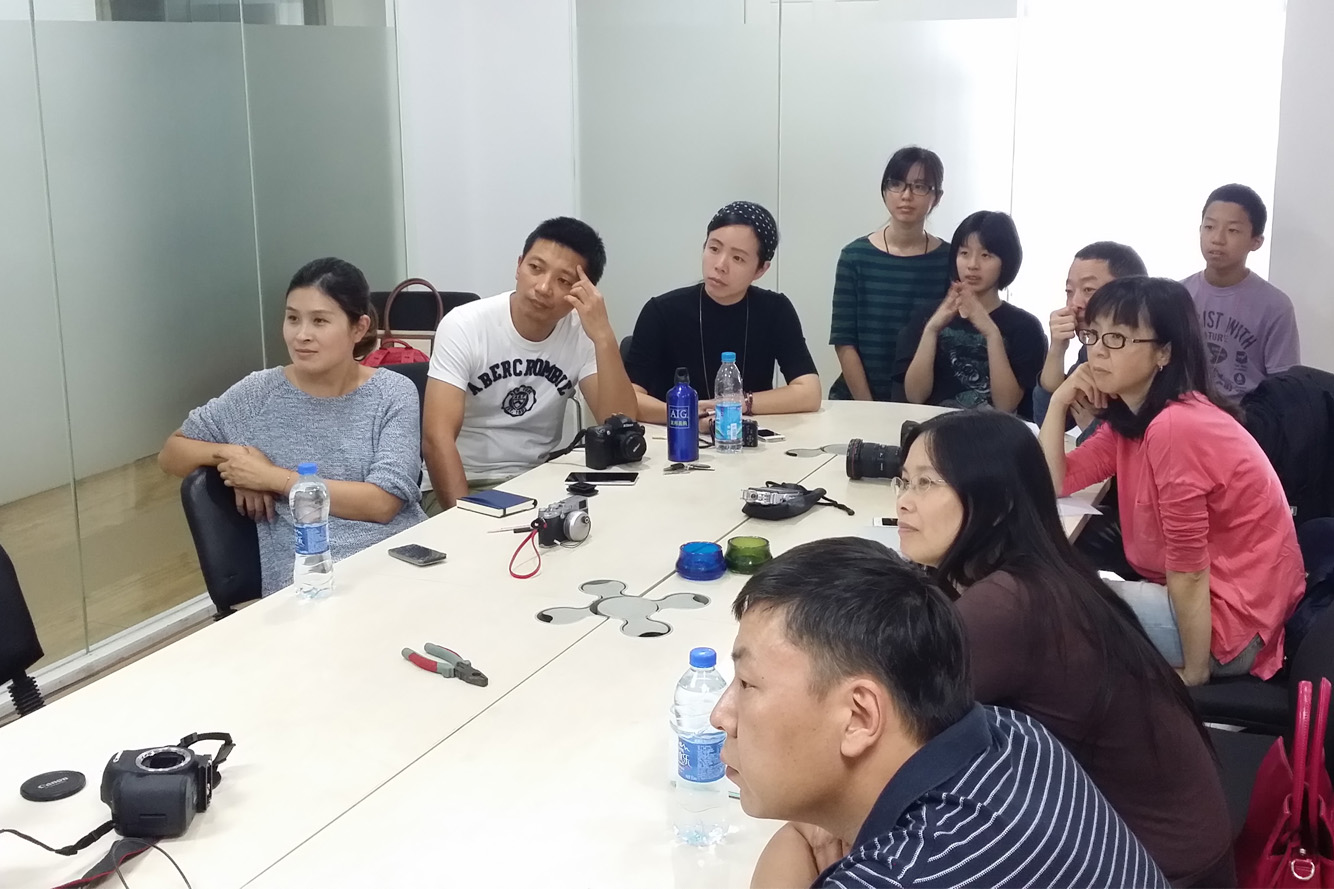 The first lesson held on 5th October 2014 in Najing.
Confirmed Course(s):
2020
Previous 80 Seesions
31 Aug 2023, Barcelona
17 Aug 2023, Madrid
11 Aug 2023, Zoom, Ningbo-Barcelona
25 Jul 2023, Frankfurt, Germany
02 Oct 2022, Barcelona, Spain
22 Aug 2022, Barcelona, Spain
11 Apr 2022, Madrid, Spain
03 Apr 2022, Barcelona, Spain
12 Apr 2021, Zoom
04 Sep 2020, Zoom
20 Jul 2020, Zoom
18 Jan 2020, Zoom
02 Aug 2019, Zoom
11 Jul 2019, Zoom
16 Mar 2019, Barcelona, Spain
22 Dec 2018, Shanghai, Spain
15 Dec 2018, Nanjing, China
06 Oct 2018, Barcelona, Spain
06 Aug 2018, Barcelona, Spain
07 Jul 2018, Haikou, China
30 Jun 2018, Shanghai, China
09 Jun 2018, Shanghai, China
26 May 2018, Nanjing, China
24 Apr 2018, Barcelona, Spain
17 Mar 2018, Barcelona, Spain
12 Mar 2018, Barcelona, Spain
01 Mar 2018, Madrid, Spain
07 Jan 2018, Sevilla, Spain
16 Sep 2017, Barcelona, Spain
25 Jun 2017, Barcelona, Spain
05 Jun 2017, Shanghai, China
28 May 2017, Shenzhen, China
20 May 2017, Kunming, China
13 May 2017, Shanghai, China
06 May 2017, Nanjing, China
27 Mar 2017, Marbella, Spain
11 Feb 2017, Valencia, Spain
15 Jan 2017, Barcelona , Spain
18 Dec 2016, Madrid, Spain
12 Nov 2016, Hong Kong
29 Oct 2016, Beijing, China
25 Oct 2016, Shanghai, China
22 Oct 2016, Shanghai, China
15 Oct 2016, Nanjing , China
14 May 2016, Boston, USA
10 May 2016, Boston, USA
05 May 2016, Boston, USA
30 Apr 2016, New Jersey, USA
27 Apr 2016, New Jersey, USA
23 Apr 2016, Philadelphia, USA
14 Apr 2016, Madrid, Spain
28 Feb 2016, Barcelona, Spain
20 Feb 2016, Madrid, Spain
19 Jan 2016, Barcelona, Spain
20 Dec 2015, Barcelona, Spain
19 Dec 2015, Barcelona, Spain
08 Dec 2015, Changzhou, China
05 Dec 2015, Nanjing, China
28 Nov 2015, Shanghai, China
08 Nov 2015, Barcelona, Spain
11 Oct 2015, Barcelona, Spain
06 Sep 2015, Mountain View
29 Aug 2015, Dongguan, China
23 Aug 2015, Shanghai, China
15 Aug 2015, Nanjing, China
07 Aug 2015, Shanghai, China
25 Jul 2015, Boston, USA
19 Jul 2015, New York, USA
18 Jul 2015, Philadelphia, USA
14 Jul 2015, Washington, USA
11 Jul 2015, San Diego, USA
28 Jun 2015, Los Angeles, USA
27 Jun 2015, Los Angeles, USA
06 Dec 2014, Shanghai, China
30 Nov 2014, Nanjing, China
29 Nov 2014, Nanjing, China
22 Nov 2014, Shanghai, China
25 Oct 2014, Shanghai, China
06 Oct 2014, Nanjing, China
05 Oct 2014, Nanjing, China
Add my Wechat: eric-x-liu。